Meindl Identity®
CRAFTS. DESIGN. INNOVATION. TECHNOLOGY.
Lukas Meindl GmbH & CO.KG has been producing shoes of the highest quality for generations. What began as a one-man shoemaker is today a company that can build on more than 300 years of tradition and experience. Lukas and Lars Meindl lead the business in the 9th generation.
Meindl is at home all over the world and has never forgotten his roots - and they are in Kirchanschöring in the Chiemgau region with a view of the Berchtesgaden and Chiemgau Alps.
Today around 250 employees work in the parent company. This is where tradition, shoemaker craft and innovative spirit come together.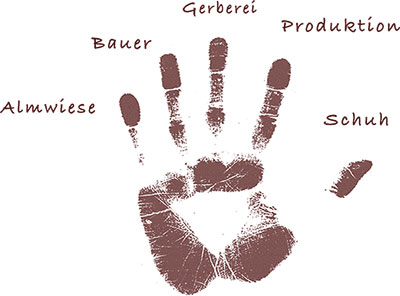 One project that Meindl is particularly proud of is Meindl »Identity«! The successful family-owned company provides a detailed proof of origin for the upper leather used in its Identity models - thus revolutionizing the market once more: Meindl was the first company in the world to realize such a comprehensive project. And not only that: Meindl Identity stands for much more - for regionality and complete transparency!
It's a long way to go before the finished product goes on sale. This starts with the organic farmers of the region. The path continues through the Austrian-Bavarian company Alpenrind to the tannery Heinen - here Meindl also sets short paths and works closely with the two companies. Over 200 further steps are then necessary in the production until the shoe is finished.
Your Meindl Identity® shoe is unique and will accompany you for many years. Each pair has an ID number imprinted with which you can retrieve a detailed proof of origin of the upper leather used.
Each shoe has its own individual and transparent story - your shoe with identity.